SoftR Infotech Pvt Ltd
ERP Software in Pune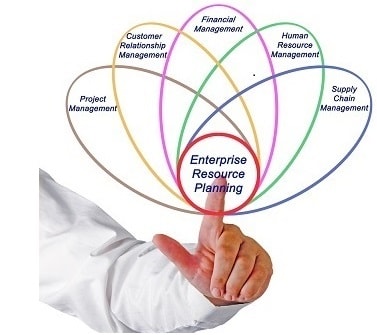 ERP Software in Pune, ERP Solution Pune ,Customize ERP Development ,Web based ERP,Mobile ERP Pune. The ERP system definition, then, would be a set of software applications that organize, define and standardize the business processes necessary to effectively plan and control an organization. Essentially, ERP applications are a computer model of your business, embodying the products and processes, information flow, procedures, and relationships between functions and activities. A set of planning applications can provide recommendations for what must be accomplished in order to meet the forecasted demand and keep the business functioning smoothly.
Planning is at the core of ERP and is embodied in a top-down hierarchy of functions—master planning, detailed material and resource planning, and execution (production control and purchasing). Master planning is the executive level function that sets the operational business plan (supports the sales and operations planning (S&OP) process). Detailed material planning (Material Requirements Planning or MRP) uses bill of material and inventory information to develop a complete manufacturing and purchasing plan for all products, assemblies, components and materials. At this same level, capacity requirements planning (CRP) ties the production plan to resource availability—work center capacity and loading.
Clustered around the planning core functions, additional software modules provide support for executing the plan (production control, purchasing), gathering information for tracking status and feedback to planning (closed loop) and for accounting and control. Additional modules help manage customer orders and fulfillment, forecasting, costing (often integrated within the execution functions), master data (bills of material and routings), finance (accounts payable and receivable, payroll, general ledger, financial reporting and analysis), quality, shop-floor data collection, and more.